Whether it's for weight loss or simply increasing nutritional value, home cooking is the best route to take.
But how many times have you told yourself you don't have time to cook healthy meals—especially after a long day at work or after running the kids to and from after-school activities?
If time is not on your side, a slow cooker, or Crock-Pot, is your best friend.
From cutting simple carbs, sugar, and saturated fat to increasing protein and nutrients, you can up-level your health with simple, time-saving Crock-Pot meals.
In this blog, you'll discover how to save time while cooking and incorporate more vegetables and proteins in your diet.
Take note of these 3 healthy Crock-Pot meals below.
(Bonus: see the end of this article to discover how to acquire the most inexpensive and nutritious fruits and vegetables to effortlessly prepare your meals.)
1. Slow Cooker Butternut Squash, Bean, and Barley Stew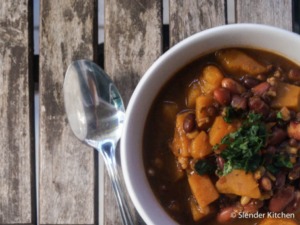 Photo source: Slender Kitchen
With only 220 calories per serving, low fat, high fiber, and generous protein, this Crock-Pot recipe is optimal for weight loss, intestinal health, and more. And you can simply turn on a switch, go to work, and come home to dinner.
Click here for cooking instructions.
2. Beef with Root Vegetables
Photo source: Bodybuilding.com
If you're lacking in vegetable intake, you're also lacking in proper nutrition. This simple slow cooker recipe solves this issue. Rich in iron, this recipe is perfect for individuals who are in training for an athletic event or people who want to build more lean muscle instead of fat.
Click here for cooking instructions.
3. Vegetarian Chili
Photo Source: Taste of Home
Even if you're not a vegetarian, omitting meat from your meals is an excellent way to increase your fiber intake. Plus, you don't have to lose out on protein. This recipe boasts high protein and fiber, without the excess fat that comes with traditional beef chili.
Click here for cooking instructions.
Where do you get these ingredients that make inexpensive, simple, and healthy meals?
Grow your own vegetables!
Even if you've never gardened a day in your life, I've found the way that makes growing hormone-free vegetables and fruits simple…
Even if you live in an apartment, condo, or a city without much yard space.
I like to think of this tool as having a farmers' market on your back porch. If you're looking for ingredients to use for the slow cooker recipes, or you simply want to add more nutrition, this is the safest, cheapest, and most efficient way to do it.
Click here for special access, only available to my patients and readers.