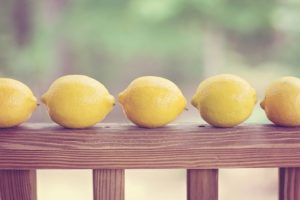 Lemon oil is one of the most common essential oils in use throughout the U.S.
It is a staple of household cleaning products, thanks to its clean, fresh smell — not to mention it is a natural disinfectant. Many people also store lemon oil in their medicine cabinet to help stave off colds in the winter.
Lemon oil is exceptionally easy to produce, even at home. You've already encountered lemon oil while peeling a lemon or using lemon zest in your cooking.
What you may not realize is how useful lemon oil can be throughout your home. Here are five news ways you can use the natural power of lemon oil.
Liver Detox
Lemon is great for cleansing the liver, and many people drink lemon in water as part of a morning detox drink.
Many people, especially during a detox, are looking to reduce the acidity of their food. The acid in lemons can also be harmful to enamel if left to sit on your teeth. Lemon oil solves these issues as it is pH neutral (since it's made from the rinds, it lacks the citric acid associated with lemon juice).
Mix a few drops of lemon oil in water each morning to enjoy your acid-free liver detox!
Naturally Clean Clothes
Clothes sometimes acquire a stale or mildew smell: after removing them from off-season storage, when getting home from a long trip, or when your kid forgets he left a load in the washer for several days.
Instead of a chemical, fragrance-laden commercial product, try some essential lemon oil.
A drop or two of lemon oil in the washer will help destroy mildew and remove unwanted scents (pro tip: this trick also works in your refrigerator!).
Make some homemade dryer sheets to get that fresh laundry smell naturally.
Oral Health
As mentioned above, using lemon oil is better for your teeth than the juice. In fact, lemon oil has several benefits for a healthier mouth!
Toothbrushes are left to sit in the open air between uses. Use the natural disinfectant power of lemon oil to freshen your brush before using. Just put a drop on the brush, work it in, and then rinse with water.
The astringency of lemon oil, along with its natural ability to whiten teeth, also makes it a great addition to your homemade mouthwash.
Cleaning Solution
Lemon oil, combined with all-natural vinegar, is an effective solution for cleaning your house without harsh chemicals.
All-Purpose Cleaner
Combine these ingredients in a glass spray bottle for an inexpensive way to clean and disinfect:
25 drops lemon essential oil
This recipe and several others can be found at http://oneessentialcommunity.com/8-diy-recipes-for-cleaning-with-lemon-essential-oil-plus-a-free-printable/.
Lemon oil is also a natural degreaser, which is why it's often found in dish soaps (along with orange peel oil). You can use this natural ability of lemon oil to get rid of grease all over the house with a homemade degreaser solution.
Use it for:
Removing residue from adhesives
Getting rid of greasy stains on upholstery
Cleaning dirty mechanic's hands before they come inside from the garage
Natural Digestive Aid
Lemon oil aids in digestion in two ways. When taken daily, it acts as an aid in improving the function of your liver and kidneys, as well as promoting the release of gastric juices.
You can also use the carminative effects of lemon oil to help relieve the problems associated with indigestion, including bloating and excessive gas (substitute lemon oil for lemon juice).
Bonus Use: Natural Morning Sickness Aid
When you are pregnant, you worry the most about what you eat, what chemicals are in your environment, and how to balance your own physical comfort with medications.
You'll be happy to hear a clinical trial of aromatherapy with pregnant women showed that lemon oil can help with the nausea and vomiting associated with morning sickness!
Lemon oil is a natural and versatile essential oil that belongs in all the cabinets around your house. From the kitchen to the bathroom to the laundry room, use lemon oil to maintain a fresh and chemical-free clean all over!