How much exercise should you get?
That's an excellent question…and one you might have difficulty answering.
Similar to your dietary choices, there's no hard-and-fast rule for how many laps to walk or push-ups to complete. But you can follow some general principles to guide your exercise routine.
A good rule of thumb is the guidelines given by the U.S. Department of Health and Human Services in their Physical Activity Guidelines for Americans.
Just last month, the Department released their second edition of this publication. And—in this article—we'll take a look at what they recommend for adults across the nation.
Let's get started…
How Much Exercise Should You Get?
Figuring out how much exercise you should get doesn't begin with measuring…
Your body mass index (BMI).
The number of calories you burn each day.
Your overall muscle mass.
If you look at a synopsis of the Physical Activity Guidelines for Americans published by JAMA…
You'll find the recommended amount of aerobic exercise actually depends on the intensity of your workout—whether it's moderate or vigorous.
Not sure of the difference between the two?
The JAMA article explains that the effort involved in moderate aerobics is equal to brisk walking and the effort involved in vigorous exercises is equal to running or jogging. In fact, the authors give three options for aerobic exercise:
You can opt for 150–300 minutes of moderate exercise.
You can choose 75–150 minutes of vigorous exercise.
Or you can have "an equivalent combination of moderate- and vigorous-intensity" exercise.
If you look at the numbers above, you'll notice there's a 2:1 ratio for moderate aerobics compared to vigorous aerobics.
So—if you choose option three—30 minutes of intense biking plus a fast-paced neighborhood walk of 90 minutes meets the requirement for one week.
Important note: The Physical Activity Guidelines for Americans also states that exercising your muscles is important, too.
Just how much exercise should you get for your muscles?
According to the JAMA article, here's what you need to do:
You need exercises that "involve all major muscle groups."
This exercise must be at least 2 days each week.
The intensity level should be at least moderate in intensity.
Exercise Opportunities for Those in Matthews or Greater Charlotte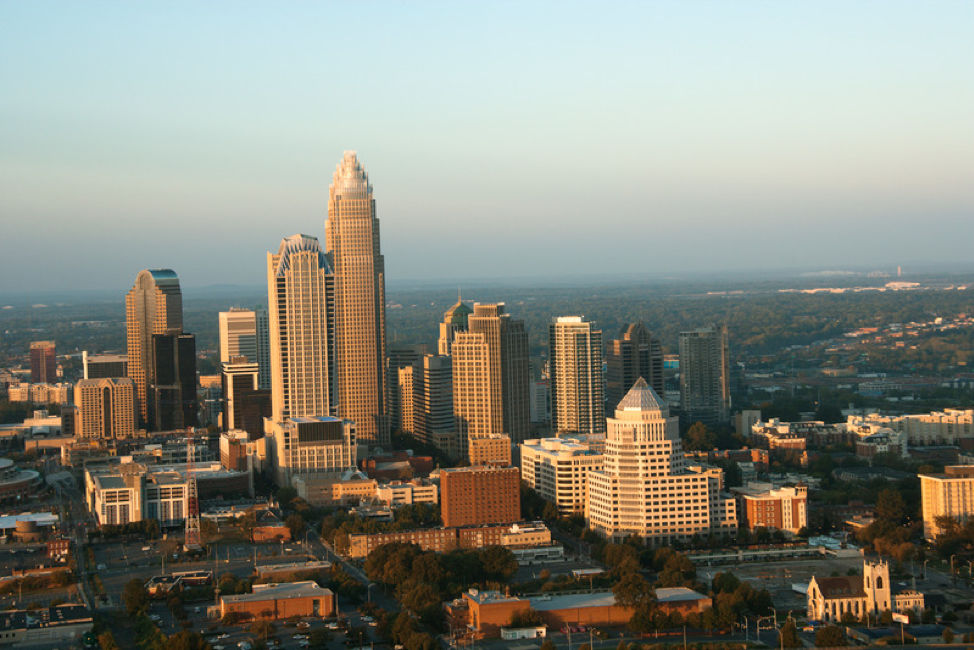 Now that we've seen how much exercise to get, it's time to strategize putting these guidelines into practice.
If you have a gym membership or home fitness equipment, way to go! You already have the tools you need to jumpstart your exercise routine.
If not, realize that staying fit and getting more exercise doesn't require a major financial investment.
For muscle exercises, pick up a few barbells and resistance bands from your local store. However, if you live in Matthews or the greater Charlotte region, you won't need to purchase any equipment to boost your cardio.
Our local area offers many opportunities for getting aerobic exercise. Here are a few ideas to get you started:
The Stores
The Charlotte metropolis provides a number of shopping opportunities. And you can easily turn a shopping trip into an exercise session. For instance…
Go to the SouthPark mall complex, and enjoy an outdoor walk.
If you go shopping at a membership warehouse, take your shopping cart around the entire perimeter of the store.
If you visit a multilevel shopping department, walk up the escalator, or safely take the stairs.
No matter which option you choose, be sure to boost your immunity…as you might encounter cold and flu viruses in crowded shopping areas.
The Greenways
Matthews and the greater Charlotte, NC, area have some lovely greenways you should explore. Check these areas out:
The Matthews Four Mile Creek Greenway. Take this greenway, and enjoy a cardio-boosting walk through some residential areas in Matthews.
The Charlotte Four-Mile Creek Greenway. It has a similar name, but this is a completely different greenway than its Matthews cousin. In case you don't know, this trail is near the Rea Road Trader Joe's—a great opportunity to grab some healthy food after you exercise.
Little Sugar Creek Greenway. Living in the downtown area? This greenway provides some options for your workout—all within the heart of Charlotte, NC.
The Mountains
If you live in Matthews or the Charlotte area, don't forget that the NC mountains are only a few hours away. Here are some highlights you should explore:
Crowders Mountain. This mountain offers an excellent opportunity to enjoy cardio hiking without wandering far from Charlotte—perfect for a quick afternoon outing!
Grandfather Mountain. Celebrate scenic wonders when you hike this mountain, and check out its famous bridge.
Mount Mitchell. Reach the highest peak east of the Mississippi River while still enjoying a moderate hike. At Mount Mitchell, there's no need to rock climb in order to enjoy a spectacular view.
Whether you choose to hike Mount Mitchell or simply enjoy the Matthews greenway, getting outside isn't simply a way to boost your cardio.
It's also an excellent way to support your vitamin D levels.
For more on this topic, check out our article Vitamin D during Winter: How to Avoid Deficiency in the Coming Months.