Holistic Health Practitioners | Carolinas Natural Health Center
Are you tired of taking expensive, dangerous medications or frustrated that your doctor only seems to have 15 minutes of time to spend with you when you go in for an illness or checkup?
You're not alone…
The reality is that everyday people waste both precious time and money visiting conventional medical practices and often leave offices feeling hopeless or burdened.
That's why, at Carolinas Natural Health Center, we do things differently.
The reality is that everyday people waste both precious time and money visiting conventional medical practices and often leave offices feeling hopeless or burdened.
That's why, at Carolinas Natural Health Center, we do things differently.
Our expert holistic health practitioners provide whole-body healing through customized healthcare plans based on your unique health needs and wellness goals.
We treat the root cause of disease—not the symptoms—and will take the time to truly listen to you and help you put together a comprehensive program that will put you on the path to better health for the long run.
With the flexibility to see patients both in our office and virtually, receiving safe, comprehensive healthcare from wherever you are has never been easier.
We invite you to get to know our team, and then take the next step to becoming part of the Carolinas Natural Health Center family.
Dr. Michael Smith
Dr. Smith has been recognized as a leader in the field of natural medicine and has gained national attention through interviews and public speaking, and is quickly becoming America's leading expert in lifelong, optimized living. His breakthrough optimal wellness system has proven that diminished health and vitality can be reclaimed by just about any proactive person at any age.
Using his customized blueprint, you harness your natural God-given ability to heal, through structured lifestyle and changes of habit. These programs cover the five essential keys to resolving the underlying stressors that lead to the breakdown of health including your hormonal balance, nervous system, detoxification, nutrition and fitness.
Dr. Smith empowers you to optimal health through his programs that train and educate you to finally take complete control of your health and fitness, while dispelling the ever-growing number of fallacies and myths related to this subject. Dr. Smith's fascinating and refreshing approach to body transformation includes topics on mindset, nutrition, a unique exercise program and hormone balance. This program and approach works for all ages. His unique ability of delivering his presentations in an upbeat and often humorous fashion, leaves his audiences with a new sense of excitement and motivation.
Dr. Smith practices naturopathic medicine and functional wellness in Charlotte, NC at Carolinas Natural Health Center, the leading holistic wellness Center in the Carolinas, where he incorporates nutrition, homeopathy, hormone balance, fitness and permanent weight control. His doctorate is in Naturopathic Medicine with advanced training and certifications in clinical nutrition and homeopathy.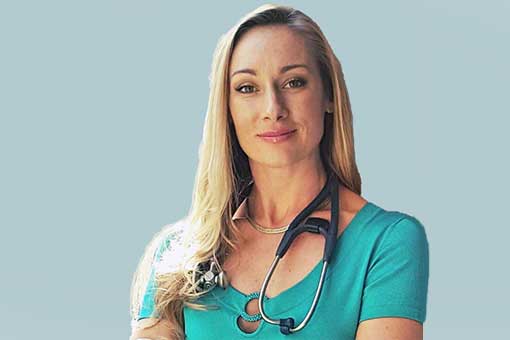 Dr. Jill Cole, ND
Dr. Jill Cole, ND, is an expert in natural medicine and is internationally recognized for her work in creating effective wellness programs.
Dr. Cole proactively empowers and helps practice members restore and reach optimal living and health, long-term, with quality clinical care, education, understanding and compassion. Dr. Cole's help is often sought for concerns with weight gain, fatigue, stress, diabetes, cardiovascular disease, hormone imbalances, digestive issues and a desire to get off medications.
She earned her naturopathic medical degree at the Southwest College of Naturopathic Medicine in Arizona, where she is a licensed primary care physician. Originally from Massachusetts, she graduated with a bachelor's in Health Science and Fitness, served as assistant managing editor for Journal of Cellular Biochemistry at the University of Massachusetts Medical School and worked as a respected personal fitness trainer before finding her true calling as a naturopathic physician.
In Arizona, Dr. Cole became the "doctor of doctors," where respected Mayo Clinic, Banner and Cornell physicians and nurses sought her care and completed her wellness programs. She served as adjunct faculty at Southwest College of Naturopathic Medicine and is an Associate with the Naturopathic Medicine Institute.
Dr. Cole's passion is educating and partnering with people to help them implement true wellness, so they can enjoy the quality of life, happiness and fulfillment we were created to experience.
Dawn Armstrong
Dawn Armstrong is the Clinical Director, overseeing the day to day clinic operations as well as supplement ordering and fulfillment for the members of Carolinas Natural Health Center.
For years, Dawn was interested in health and nutrition. However, she came full circle with her interest in healthy eating when she realized that the modern health infrastructure couldn't support the medical challenges her family faced. Dawn's journey led her to Carolinas Natural Health Center, and she now empowers others to choose a better path to take control of their health.
Dawn graduated from UNC Charlotte with her degree in biology and earned her ASCP certificate in cytotechnology. Her strong medical background includes working in a global life sciences company and hospital. She also served as an instructor for CPCC's cytotechnology program.
In her free time, Dawn enjoys attending live music events, hanging out with family and friends, and escaping to the beach.
Krista Sigmon
Krista Sigmon is a Certified Health Coach who supports our members throughout their programs with diet and lifestyle changes. She enjoys getting to know our members and helps them with meal planning and teaching various classes such as cooking classes, nutrition classes, smoothie classes, and more!
Seeing our members make changes and start to embrace a healthier lifestyle inspires Krista and motivates her everyday!
Krista had a unique upbringing as her parents owned several produce markets. This is where she developed a love for fresh fruits and vegetables at a young age. After having kids, she found herself reading and learning as much as she could about healthy cooking, ingredients and lifestyle.
That led her to the Institute of Integrative Nutrition where she received her health coach certification and she is thrilled that she did!
When not working, Krista loves spending time in the mountains, tubing and canoeing on the New River, swimming, reading, walking barefoot on the beach, and cooking and entertaining.
Meagan Embrey
Meagan is a Certified Health Coach (certified through the Institute of Integrative Nutrition).Her passion is for holistic care and through health coaching, she fulfills her purpose by using her knowledge to foster the connection between the body, mind and spirit- through nutrition, movement and mindful practices. Meagan is also a Level 2 Crossfit trainer who loves working out- whether it's having fun jumping on a trampoline or lifting heavy weights!
A native to North Carolina, Meagan enjoys spending her spare time with her husband and getting outdoors (retreating to the beach whenever possible!), reading, cooking and celebrating life with family and friends.
Christy Story
Christy Story is a Wellness Concierge and Certified Neuro Technician. She received her Bachelor's degree from UNC-Chapel Hill and is an avid Tar Heel fan!
She has worked in healthcare for 14 years and has a passion for helping others. She became interested in natural medicine through her own health journey- and hopes to inspire you to live your best life!
In her freetime, Christy enjoys traveling, hearing live music, and spending time with family and friends. She feels it is important to schedule FUN on your calendar so you always have something to look forward to.
Stephanie Snyder, Ph.D.
Stephanie Snyder, Ph.D. is the Wellness Advocate. With over 15 years of experience, Stephanie is aiding our members in becoming the best version of themselves.
"My goals are to be the best I can be while encouraging others to do the same. I am proud that I completed my Ph.D. just weeks before my 4th child was born; completed a full marathon 15 months after suffering a shattered kneecap; and completed a Half Ironman race 9 months after being bucked off my horse and suffering from a compression fracture in my spine."
In her free time, Stephanie is a mom to 4 awesome kids who are in sports- so she spends the weekends cheering them on and spending lots of time with them.
Alveria Mundy
Alveria Mundy is a Wellness Concierge.  Born in Mississippi, a southern girl at heart, she was raised in Columbus Ohio and is a huge Buckeye fan. She moved back to the South in 2002 to Atlanta, GA where she obtained her Bachelor's Degree in Marketing and then moved to Charlotte in 2008.  
With many years of experience, Alveria carries the values of hard work, integrity, compassion,  and outstanding client service into everything she does.  Realizing early on that she did not like the side effects of traditional medicine, natural health has since been an interest that she loves to share with others.
In her free time, Alveria enjoys spending time with her family and close friends, shopping and traveling.  She is a wife and mom of three, her son who lives in Wilmington and her two daughters are very active; one of which is a competitive basketball player.
Alveria is always ready to greet everyone that comes into our practice with a positive attitude and a friendly smile!
Donald Grothoff
Donald Grothoff is the mindset coach here at Carolinas Natural Health Center. As the Mindset Coach he helps patients going through Dr. Smith's program of healing get past the anxiety, stress, emotional blocks, or traumas that stop them from getting the full potential of the amazing healing Dr. Smith provides to his patients.
He has one-on-one sessions where he uses his skills in Emotional Freedom Techniques (EFT) tapping, breath work, mindfulness practices and much more. His work along with all the others working in this practice nurtures each patient to the next level in their healing process.
When he is not at CNHC, he has his own practice working with parents who are dealing with children with behavior and anxiety issues. In that capacity he is a speaker, EFT Practitioner, and Behavior Transformation Specialist along with his wife Gina.
Donald is passionate about helping patients and clients reach their best health level.
"It's not just about healing the body, it's a path to a more conscious life!"
TAKE YOUR NEXT STEP TO BETTER HEALTH
Today is the day to start on the path toward better health. We invite you to learn more about what we do and how we treat our patients at Carolinas Natural Health Center.